New Camera Purchase!!
(Monday, 06 August 2012)
Originally Posted on: http://fsrain.pixnet.net/blog/post/37874129
Hi hi people!!
I know I know, I was kinda M.I.A (aka missing in action) for quite awhile overhere.. but what can I do? Being busy at work and in my personal life sometimes could be a good thing..
More or less this month's gonna be even more crazy at work and before I forget about my little blogSpirit, I wana make a print over here to say a "Hi/Hello!" to my quiet readers here!
Just earlier today I popped into my Gmarke|Qoo10 account to check on my review and couldn't help but searched for a Samsung Camera which I really wanted to have.. I found it and it was such a good price I couldn't resist!! To find out more about my purchase, follow the above link! I have also linked the product page if you also wish to get one for yourself!
So for now.. while I wait for mine to arrive, perhaps you could share with me what you have! I mean which camera are you using? How do you like it?
My old trusty camera is also from Samsung, very old model ES17, cost me SGD145 (with mini tripod, 8GB SDcard, lens cleaning kit, cover, rechargeable battery set) if I didn't remember wrong. Its using 2 double A batteries and had once fallen from 2nd Storey of a buidling but survived it till now.
It's really a great camera to have consider that it's very sturdy, fall-proof and battery can be bought from any stores. super convenient for travelling! 3x optical zoon, ISO1600 (light sensitivity if Im not mistaken), 12.2 megapixels with lots of shooting options, honestly, I am really satisfied with it!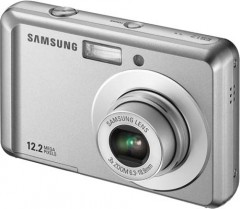 Well.. if not for the fact that I am so tech-crazed (apart from makeup/beauty-crazed), so so excited and enthusiastic about the latest gadgets and stuff like that, I would just keep to my trusty old camera and along with my Samsung Galaxy S and Galaxy S2 to capture all the beautiful shots and videos!
That's how I started getting "hooked" to the camera that has a front LCD where I can pose and shoot my self-portraits with instant preview of my shots!
Having said so much.. let's just wait till my new camera arrive!
I bet its gonna be one of my best gadgets for travel and capturing all the precious moments in life with my family and friends!
Check back again for my camera update!
Cheerios
FS.Rain
02:42 | Permalink | Comments (0) | Tags: samsung, camera, digital camera, qoo10, gmarket, online shopping, great deals, cheap buys, affordable camera |
|
Facebook | |

Print | |