Monday, 18 June 2012
Originally posted at @ :: 痞客邦 PIXNET ::-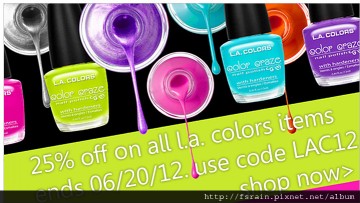 http://fsrain.pixnet.net/blog/post/37636616
Hey everyone!
I've not posted any entries in a while.. Most likely gonna back-post my articles to eliminate and "blanks" on the calendar. XP
For now I just wish to share with you that CherryCulture is having 25% off for L.A. Colors products! Grab yours now!
Im so so so tempted to join this shopping spree but am torned between saving up for up-coming trip and this exciting sales event... How~ what should I do?
Hmm.. Tell you what I have in mind. If you are located in Singapore and wanna get something during this sale but not enough items to cover the shipment fees, drop me a mail now!
I will consolidate all requests and advise if there are enough orders to do a spree where shipping cost per item falls within USD1.50 per item. How's that?
Alternatively, just drop me a note and I will keep you in touch when we have enough orders to do that Spree!
As to how much i'll charge for coordinating this and how we can arrange for deposits and payment, we can discuss this if there's enough interested parties.
Ok, thats all for now.
Happy Shopping peeps!

It's also the GREAT SINGAPORE SALE season, so watch your pockets people! Never buy on impulse ya~ unless you can afford it. XD
Cheerios

FS.Rain
20:28 Posted in Beauty, Blog, Cosmetics / Makeup, My Interests, Shopping | Permalink | Comments (0) | Tags: shopping, shopping online, makeup, l.a. colors, discount, sales, cherryculture, cherry culture |
|
Facebook | |

Print | |
Monday, 30 January 2012


Take a look at "Gmarket SG"


Hey everyone!

I'm so excited to discover that Gmarket Singapore has launched their Android App!

Follow the above link to download it.

I believe it is also available in Apple Store.

If you own neither phones, their website works well on mobile browsers with flash enabled.

Check out their official website here.

FS.Rain


12:23 Posted in Cosmetics / Makeup, Health, My Interests, Shopping, Web | Permalink | Comments (0) | Tags: gmarket, gmarket sg, gmarket singapore, shopping, online, shopping online, singapore, cosmetics, makeup, korean cosmetics, asian cosmetics, android app, application |
|
Facebook | |

Print | |
Thursday, 08 December 2011
Hey everyone~
I'm so glad that you popped-in here, although I'm not very sure how.. But then again, I wish to share with you that I have finally set-up and dedicated one of my blogs (I've got three including this) to rant and rave about my obssession about Beauty / Makeup / Cosmetics and Health products!
If you share the same interests as me, catch me here and exchange your views with me!
Spot me:
Cheerios
FS.Rain
22:38 Posted in Beauty, Blog, Cosmetics / Makeup, Health, My Interests, Product Review, Shopping | Permalink | Comments (0) | Tags: introduction, beauty blog, cosmetics, makeup, reviews, obsessions, shopping |
|
Facebook | |

Print | |
Wednesday, 07 December 2011
Hey people~
As I've started to blog more actively over at my Health & Beauty Blog, I guess it is only beneficial for me to share with you the posts too!
In this post, I am sharing about all the items (at least as much as I am able to "capture" them on camera) which I've gotten from Daiso. Check it out!!
FYI - I believe Daiso is quite popular in Asia where it is like a neighbourhood "Dollar store" where items sold are relatively cheap, and in this case, it is all priced at SGD2.00.
There were lotsa items which were value for money and almost every trip there I would end up getting something. Of course, there are times where it was planned for.. but then.. XD sometimes temptation sets in and some items are bought on impulse.
14:59 Posted in Beauty, Blog, Cosmetics / Makeup, Leisure, My Interests, Product Review, Shopping | Permalink | Comments (0) | Tags: daiso, shopping, commodities, toiletries, makeup, cosmetics |
|
Facebook | |

Print | |