Monday, 15 February 2016
Received from my dearest ex-boss and friend Peggy Tan: what each animal in the Chinese Zodiac symbolises and represents. Why and how they are arranged in the Zodiac. Recall the legends of the 12 Zodiac (12生肖的传说/故事), it's show how reflecting what ancesters wished upon their decendents. The desired virtues to possess. I think that this, storks be shared.


老外嘲笑十二生肖,國人反問讓人深思!

有一次,一群中國人參加接待了一個由歐洲貴族組成的參訪團的活動。
他們中的大多數跟王族有親戚關係,非常有學問和修養,待人彬彬有禮,但他們的修養背後隱藏著一種傲慢。最後一天聚餐,可能酒喝多了,這些貴族的言談舉止變得比較率性。
席間,一位德國貴族站了起來說:你們中國人,怎麼屬什麼豬啊,狗啊,老鼠啊!不像我們,都是金牛座,獅子座,仙女座……真不知你們祖先怎麼想的!
眾人聽了哈哈大笑,還互相碰杯,先前的優雅完全不見了。

按理說,人家在罵你的祖宗了,你即使想不出話反擊,起碼可以掀桌子啊!但是,所有在場的中國人都不吭聲,也可能是沒有反應過來。
這時有一個中國人站了起來,用平和的語氣說:「是的,中國人的祖先很實在。我們十二生肖兩兩相對,六道輪回,體現了我們祖先對我們的期望和要求。」
這時,現場氣氛慢慢安靜了下來,不過,貴族們的臉上還是一幅滿不在乎的神情。
中國人說:第一組是老鼠和牛。老鼠代表智慧,牛代表勤奮。智慧和勤奮一定要緊緊結合在一起。如果光有智慧,不勤奮,那就變成小聰明;而光是勤奮,不動腦筋,那就變成愚蠢。這兩者一定要結合。這是祖先對我們第一組的期望和要求,也是最重要的一組。
第二組是老虎和兔子。老虎代表勇猛,兔子代表謹慎。勇猛和謹慎一定要緊緊結合在一起才能作到膽大心細。如果勇猛離開了謹慎,就變成了魯莽,而沒了勇猛,就變成了膽怯。這一組也非常重要,所以,中國人看著這些貴族,補上一句:當我們表現出謹慎的時候,千萬不要以為中國人沒有勇敢的一面。
看著大家陷入沉思,中國人繼續說:第三組是龍和蛇,龍代表猛,蛇代表柔韌。所謂剛者易折,太剛了容易折斷,但是,如果只有柔的一面就易失去主見,所以,剛柔並濟是我們的祖訓。
接下來是馬和羊,馬代表勇往直前,羊代表和順。如果一個人只顧自己直奔目標,不顧及周圍環境,必然會和周圍不斷磕碰,最後不見得能達到目標。但是,一個人光顧及和順,他可能連方向都沒有了。所以,勇往直前的秉性,一定要和和順緊緊結合在一起,這是祖先對我們的第四組期望。
再接下來是猴子和雞。猴子代表靈活,雞定時打鳴,代表恒定。靈活和恒定一定要緊緊結合在一起。如果你光靈活,沒有恒定,再好的政策也得不到收穫。一方面具有穩定性,保持整體和諧和秩序,另一方面有能在變通中前進,這才是最根本的要旨。
最後是狗和豬。狗代表忠誠,豬代表隨和。如果一個人太忠誠,不懂得隨和,就會排斥他人。反過來,一個人太隨和,沒有忠誠,這個人就失去原則。無論是對一個民族的忠誠,還是對自己理想的忠誠,一定要與隨和緊緊結合在一起,這樣才容易保持內心深處的平衡。
解釋完畢,中國人說:「最後,我很想知道你們的寶瓶座,射手座等星座體現了你們祖先對你們的哪些期望和要求?希望賜教。」
這些貴族們很長時間都沒有說話,全場鴉雀無聲。
慚愧的是,這也是第一次瞭解十二生肖的意義。看完要轉,因為我們是炎黃子孫。
13:43 Posted in Blog, My Interests, Quotes, Thoughts... | Permalink | Comments (0) |
|
Facebook | |

Print | |
Saturday, 03 November 2012
Article: Why I'm no longer Gay but still want to marry a man


This article covered not just what the title says but also something which l think is profound - - ♥LOVE♥

This particular paragraph that I have "cut" out simply because it is really inspirational. To a certain degree I really agree on the way he describe love.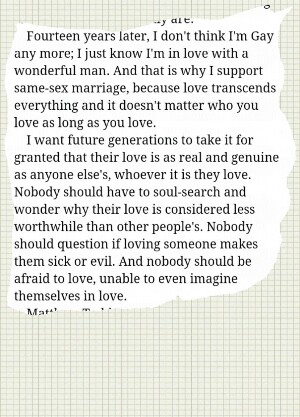 Of course, I know that just by reading the title there might be to quite a handful ppl uttering %$#××_8£$
That is, if you never even bother to read the whole article.

However it is perceived and how one decides to perceive is beyond me. I just wanna share good reads.

=>

Cheerios,
FS.Rain
12:01 Posted in Blog, People, Quotes, Thoughts..., Web | Permalink | Comments (0) |
|
Facebook | |

Print | |
Wednesday, 04 April 2012
I came across this article in Google+ here:
https://plus.google.com/105256156026694816333/posts/EdkSeivNHvG
It is so interesting and humorous that I wana share it on my blog!
~~~~~~~~~~~~~~~~~~~~
16 Things That it Took Me Over 50 Years to Learn (by Dave Barry)

I love the hilarious little signs that hang on the walls of Jimmy John's sandwich shop (Mmmm, Jimmy Johns), and I took my son there tonight for dinner. One sign that always really tickles us both is shown below --- it was written by my all-time favorite writer, humorist Dave Barry on his 50th birthday. Although it is very funny, there's a lot of truth and some good advice in there, too. Hope you get a chuckle out of it (my son's favorites are #1, #10, and #15. I'm quite partial to #2, only because it's so true!). :)

1. Never, under any circumstances, take a sleeping pill and a laxative on the same night.
2. If you had to identify, in one word, the reason why the human race has not achieved, and never will achieve, its full potential, that word would be "meetings."
3. There is a very fine line between "hobby" and "mental illness."
4. People who want to share their religious views with you almost never want you to share yours with them.
5. You should not confuse your career with your life.
6. Nobody cares if you can't dance well. Just get up and dance.
7. Never lick a steak knife.
8. The most destructive force in the universe is gossip.
9. You will never find anybody who can give you a clear and compelling reason why we observe daylight savings time.
10. You should never say anything to a woman that even remotely suggests that you think she's pregnant unless you can see an actual baby emerging from her at that moment.
11. There comes a time when you should stop expecting other people to make a big deal about your birthday. That time is age eleven.
12. The one thing that unites all human beings, regardless of age, gender, religion, economic status or ethnic background, is that, deep down inside, we ALL believe that we are above average drivers.
13. A person, who is nice to you but rude to the waiter, is not a nice person (This is very important. Pay attention. It never fails.)
14. Your friends love you anyway.
15. Never be afraid to try something new. Remember that a lone amateur built the Ark. A large group of professionals built the Titanic.
16. Final thought for the day: Men are like fine wine. They start out as grapes, and it's up to the women to stomp the snot out of them until they turn into something acceptable to have dinner with.

--- Dave Barry
Tuesday, 21 February 2012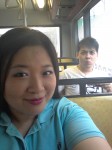 Finding Happiness instead of waiting for Happiness to find you!
I just wanna share a quick post while I'm on the go.
Now and then, I will have my thoughts "let-loose" and it will wander from the north pole till the south pole. Sometimes, it simply went out of the world.
Of course, at some point in time, I will be reflecting (its an in-born habit that's been there since I'm ever having a conscious thought process).
I will think about what I've done recently, and perhaps until i'm super young and memories are now a fuzz. No matter what I reflect on, somehow or rather, my thoughts will find itself at home with happy thoughts & recollections.
This kind of set a good state of mind for me, especially when you are having days / moments that just doesn't wanna be kind to you. When this happens, most of the time it not only reset you r state of mind, your feelings, it also does this thing I would call, your "static field". This change always bring about positivity in you, and around you, and definitely brings about a "happy cycle" as I would like to call it.
I used to be rather "emo" before I was 12, although I was cheery, but many times emo. I believe it was hormones at work during puberty. But as life gets tougher as you grow up, it gets harder to steer clear of being emotionally down.
So how do you stay happy? You can expect nature to take care of that but sometimes things just doesn't work out. I think that its easier to rely on yourself to find happiness than for you to sit around, complain that life's never easy, or you've try to appreciate the little things in life but everyone and everything is going against you.. Blah blah..so on..
What I do is, like I shared earlier, allow your thoughts to take a stroll, You could maneuver it to your mist precious memories that you've been ever so delighted and high-spirited. Or, just start by truly appreciate what you have instead of what you dont have.

The chinese saying goes: 比bi 上shang 不bu 足zu, 比bi 下xia 有you 余yu

When you compare yourself to those whom you think living a much better life than you, obviously you felt like yours is miserablr. But look at it differently, comparing yours to those whom you think are unfortunate, how do you feel?
Lastly, (as its getting too long and typing on hp is tiring too) I love the chinese saying that goes:
知zhi 足zu 常chang 乐le,笑xiao 口kou 常chang 开kai
It means to be appreciative of what you have, happiness & laughters will always be with you.
Ok, time to stop.... Haven't done such a long post on "thoughts & sharing".. It's sure gonna be interesting when I read it again years later. Xp
Cheers,
FS.Rain
12:14 Posted in Blog, It's Just Me!, Quotes, Thoughts... | Permalink | Comments (0) | Tags: being happy, finding happiness, happiness, positivity |
|
Facebook | |

Print | |
Wednesday, 02 May 2007
Two Friends
Two friends were walking through the desert. At some point of the journey, they had an argument; and one friend slapped the other in the face.

The one who got slapped was hurt, but without saying anything, wrote in the sand: "Today my best friend slapped me in the face".

They kept on walking, until they found an oasis, where they decided to take a bath. The one who had been slapped got stuck in the mire and started drowning, but the friend saved him.

After he recovered from the near drowning, he carved on a stone: "Today my best friend saved my life".

The friend who had slapped and saved him asked him, "After I hurt you, you wrote in the sand and now, you write on a stone . why?"

The other friend replied, "When someone hurts us we should write it down in sand where winds of forgiveness can erase it away. However, when someone does something good for us, we must engrave it in stone where no wind can ever erase it."

Learn to write your hurts in the sand and to carve your benefits in stone.
A Thought
They say it takes a minute to find a special person, an hour to appreciate them, a day to love them, but a lifetime to forget them.