Friday, 30 December 2011
I found a Myers-Briggs Personality Test (free)
Just wana share with all this site that provides a simple and free Myers-Briggs test:
http://www.personalitytest.net/types/index.htm
Some brief definitions of the Myers-Briggs types: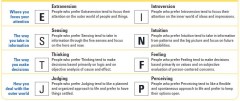 Mine is a:
ENFJ: "Pedagogue". Outstanding leader of groups. Can be aggressive at helping others be the best that they can be. 5% of the total population.
I did it many years back when I was in secondary.. somehow I think it is now different..
Give a try! XD
Cheerios~
Fs.Rain
12:47 Posted in Blog, My Interests | Permalink | Comments (0) | Tags: myers-briggs, personality test, definitions, personality, free online personality test |
|
Facebook | |

Print | |