Monday, 30 January 2012


Take a look at "Gmarket SG"


Hey everyone!

I'm so excited to discover that Gmarket Singapore has launched their Android App!

Follow the above link to download it.

I believe it is also available in Apple Store.

If you own neither phones, their website works well on mobile browsers with flash enabled.

Check out their official website here.

FS.Rain


12:23 Posted in Cosmetics / Makeup, Health, My Interests, Shopping, Web | Permalink | Comments (0) | Tags: gmarket, gmarket sg, gmarket singapore, shopping, online, shopping online, singapore, cosmetics, makeup, korean cosmetics, asian cosmetics, android app, application |
|
Facebook | |

Print | |
Saturday, 28 January 2012
30 Makeup Questions Tag!
**I'm answering these based on what i have tried thus far, which isn't alot actually**

1. When did you start putting on makeup?
FS- many years back like age 12 or 13 without success..finally pull it off in Year 2009

2. How did you learn to put on makeup?
FS- Initially via imitation of magazine blown up pics,then found tutorials on YouTube and also beauty makeup / tvshow such as Queen女人我最大 and beauty books imported from Taiwan (i bought fr.kinokuniya)

3. Favourite brand
FS- Fancl, Maybelline, Jordana, NYX, MAC, ELF, Wet N Wild (cant get in SG leh~), LA Colors, LA Girls, SilkyGirl and many more!! Paisey, could not settle down with just 1 brand

4. Do you like wearing foundation? If so, what's your color and favourite?
FS- Yes, esp when lazy to apply BB Cream. Ligtest color / Ivory / Fair. Fave would be Fancl and ELF. Most recent fave is LA colors mineral compact powder

5. Favourite lipstick, lip gloss and lip liner?
FS- Lipstick will be SilkyGirl & NYX (affordable price vs quality), Maybelline & FANCL (quality) and LA Girls luxury cream for a super long lasting yet not drying lip colour.
Lip gloss will be NYX, ELF, Maybelline, Jordana, LA colors, Baviphat.

6. Do you like/wear false lashes? If yes, strip or individual?
FS - Yes i like and i wear them. Dunno how to use individuals, always been using strip.

7. Favourite eye shadow color
FS- cant settled with colour, i've got 3: Blue Purple & Green + anything glittery!

8. What's your favourite daytime look?
FS-for day time would be bright coloured eyeline/eyeshadow framing the upper eyelids + long and volumimous lashes

9. Picture of your makeup collection
FS- I have it in diff areas n some are kept.. Will try my best to capture it though.

10. Favourite makeup brush
FS- Kabuki brush if this is just talking about type of brush? Basically anything that super soft against the skin lah

11. Do you like wearing bronzer?
FS- yes of coz! But more so to contour my face.

12. Favourite mascara
FS- i have a few.. Maybelline cat eyes hyper curl
NYX doll eye
SilkyGirl Double Intense
Loreal Ultra Volume Collagene
Fasio Bloom Creator
Holika Holika Magic Pole
These are my current faves!

13. Where do you keep your makeup?
I have a book cabinet transformed to "vanity top" and racks on top of my plastic drawers.

14. Favourite Youtube guru(s)
FS- Alot leh! Check out my YouTube channel ba! Offhand i have these as current faves:
Emilynoel83
Hollyannnaeree
Bubzbeauty
MakeupGeek's Marlena
DivamakeupQueen
Gossmakeupartist
Michelle Phan
MissJessicaHarlow
Mally
MissChievous
xteeener
QueenofBlending
and many more!

15. Do you wear blush?
FS- yes!

16. Do you copy celebrity make up looks?
FS- not really, but i do get inspired occasionally to try celebrity looks

17. Favourite makeup artist
FS- i dun really know anyone else apart from Mally

18. What's your favourite night time look?
FS- Smokey eyes with glitters or shimmer! It can be any colour!

19. Favourite concealer
FS- im still learning how to best apply n use concealer.. None at the moment

20. Favourite eyeshadow primer
FS- Jordana eye primer & elf eyelid primer. Both are cheap & good!

21. Where do you buy your makeup at?
FS- can i promote my blog entry? XP i enjoy shopping in watsons n guardian, some other beauty retail stores. My ultimate fave is Gmarket & CherryCulture! Then for fleas, its gotta be smoochiezz!

22. Favourite toner
FS- i dun really have any fave toner. Currently im using Watsons collagen toner, nice scent and quite moisturizing. Daiso toners are cheap n good enough.

23. Favourite eye shadow palette and blush palette
FS- eyeshadow palette will be the 72 glitter palette, coz my 180 palette from @TheMimosaGarden is too bulky, although colors are superb quality!
I dun really have blush palette. But the 78pc detachable IS'MINE professional makeup palette has a good range of blush. Oh oh! I do love my elf holiday blush & bronzer quad!

24. Which do you like: cream, matte, powder, sheer, or shimmer eye shadows?
FS- i hvn tried cream shadows, still liking powder shadows which ate shimmery, glittery and very pigmented.

25. Favourite eyeliner
FS- Maybelline unstoppable, LA colors, bourjouris glitter liner (for waterline), elf liquid & felt tip liner, Jordana Fabuliner. I've tried tge testers of SilkyGirl HD liners, super soft n ultra black n last long time that handsoap couldn't get it off completely.

26. Do you wear makeup everyday?
FS- yes! Heh.. Almost. Always wear for work, and if i go out over the weekends, i'll have makeup on. Of cox, if im just getting something fr nearby convenient store sure no makeup on.

27. Favourite powder
FS- Fancl compact powder, thus far the best in terms of coverage, texture, finished look, oil control n nv clog pores! Not cheap though..

28. Favourite makeup remover
FS- Fancl mild cleansing oil. Practically removes all, even stubborn mascaras very easily.
A good alternative that i'm using now is Bio-essence Bio-hydra water soluble olive cleansing oil. Buy the travel/sample size of 30ml at $2 in guardian.

29. Do you like wearing liquid liner? If so, what's your favourite?
FS- yes, i like liquid liner for more intense and dramatic look. My fave is Jordana Fabuliner, but also love the Maybelline newest fine tip liner, just that i hvn got it yet.. No rush for now as fabuliner fr jordana is really good enuff.

30. Picture of yourself with and without makeup
FS- Check out my photo albums and LOTD album.
Originally posted in:
https://plus.google.com/118087753538627461522/posts/Pd5zDBTKdMD
03:32 Posted in Beauty, Blog, Cosmetics / Makeup, My Interests | Permalink | Comments (0) |
|
Facebook | |

Print | |
I've not make any purchase of new books for quite some time as I really have quite a lot of books that I run out of space for them.
Despite the above said... I simply couldnt resist the temptation when I saw one of my Favourite Authors' new book! In addition, the book by Allan & Barbara PEASE is also very interesting.
Ah well~
Here I go again, my new books for 2012:
Where do you shop for books?
Have you gotten any books which are you highly reccomend for reading?
FS.Rain
Thursday, 26 January 2012
Happy Chinese New Year~!!!
Xin Nian Kuai Le!!
Gong Xi Fa Cai Hao Yun Lai~
Yea, so it is a makeup pictorial (Tutorial) which I've posted on my Health & Beauty Blog!

With great influence by the festive season, I decided to give RED colour a try!
I've never used Red for my eye shadow colour before as it is quite strong and might also make my eyes even more puffy-looking.
Somehow the look turned out well and I have captured all the steps (as detailed as possible) and post it up as a pictorial guide for this look. Check it out here!
Below are some shots taken for this look: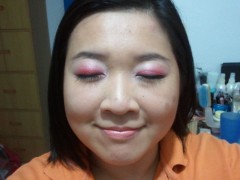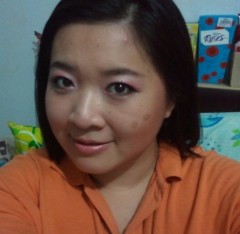 15:13 Posted in Beauty, Blog, Cosmetics / Makeup, Look of the Day (LOTD), My Interests, Tutorial / Pictorial | Permalink | Comments (0) | Tags: tutorial, pictorial, makeup, how-to, step-by-step |
|
Facebook | |

Print | |
Friday, 20 January 2012
Hi everyone!
I wish to share with you a new page which I have created in my blog which is dedicated to Looks of the Day [LOTD | Look of the Day] where it links up all my posts which are scattered all over my various sits/accounts i.e. Google+, Health & Beauty Blog, Wretch blog etc
So here you have the direct link to [Look of the Day] and a glimpse of it below: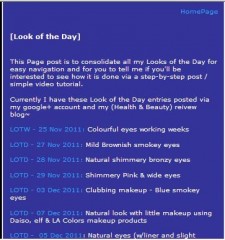 Definitely leave a comment below or contact me if you would like to see how a specific look is done~
Do share with me your blog/site which I could also drop by!
Cheerios
FS.Rain
13:14 Posted in Beauty, Blog, Cosmetics / Makeup, It's Just Me!, Look of the Day (LOTD), My Interests | Permalink | Comments (0) | Tags: lotd, look of the day, face of the day, fotd, makeup, looks |
|
Facebook | |

Print | |
Monday, 16 January 2012
Yay~
I've finally posted my review of the lipsticks from Silky Girl cosmetics!
These are among my current favourites apart from the Maybelline Watershine Diamonds lipsticks which I possess.
Please check it out at:
http://fsrain.pixnet.net/blog/post/36631000




Check it out and leave me your feedback~!! =)

Cheers~
FS.Rain
01:21 Posted in Beauty, Cosmetics / Makeup, My Interests, Product Review, Shopping | Permalink | Comments (0) | Tags: silky girl, silkygirl, cosmetics, review, lipstick, lip stick, makeup, gloss, gloss-on lipcolor, moisturemax, moisture max, plum smoothie, cool pink |
|
Facebook | |

Print | |
Tuesday, 03 January 2012
Hmm...
I never really wanted to post this nor even make a list due to many reasons.. However, I wanted to take part in the giveaway organized by Michelle Phan, hence here it is!
Improve my health via better lifestyle - sufficient sleep (7-8hours)
Established major milestones in my Career
Establish my blog presence and also produce better reviews in YouTube & my Pixnet blog by providing enriching & informative viewing experience for my cyber visitors!
May all our dreams come true!
Have a great year in 2012!!
Cheerios
FS.Rain
22:30 Posted in Beauty, Blog, Cosmetics / Makeup, Health, My Interests, Thoughts... | Permalink | Comments (0) | Tags: new year resolutions, 2012, michelle phan, goals |
|
Facebook | |

Print | |
Sunday, 01 January 2012
Weeeeeeeeee~!!
It was a peaceful evening before we took a little stroll towards our neighbourhood count down event at the Anchorvale community centre.

We were sort of just in time for the fire works display and I have managed to capture it in video so that I can share it with all of you!

http://www.youtube.com/watch?v=4f27A6Ay6Uo&hd=1


How was your year in 2011?
I hope that it shall be a great year in 2012 where our wishes comes true and may health & happiness be with us all!

Cheerios
FS.Rain
14:23 Posted in Blog, Countdown | Permalink | Comments (0) | Tags: count down, countdown, anchorvale, anchorvale cc, community centre, singapore, fireworks, fireworks display, 2012 |
|
Facebook | |

Print | |