Monday, 18 June 2012
[Shopping | 购物] Cherry Culture Sale! 25% off L.A Colors (网购促销噢!!)
Originally posted at @ :: 痞客邦 PIXNET ::-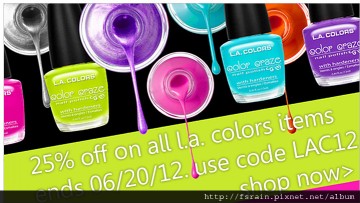 http://fsrain.pixnet.net/blog/post/37636616
Hey everyone!
I've not posted any entries in a while.. Most likely gonna back-post my articles to eliminate and "blanks" on the calendar. XP
For now I just wish to share with you that CherryCulture is having 25% off for L.A. Colors products! Grab yours now!
Im so so so tempted to join this shopping spree but am torned between saving up for up-coming trip and this exciting sales event... How~ what should I do?
Hmm.. Tell you what I have in mind. If you are located in Singapore and wanna get something during this sale but not enough items to cover the shipment fees, drop me a mail now!
I will consolidate all requests and advise if there are enough orders to do a spree where shipping cost per item falls within USD1.50 per item. How's that?
Alternatively, just drop me a note and I will keep you in touch when we have enough orders to do that Spree!
As to how much i'll charge for coordinating this and how we can arrange for deposits and payment, we can discuss this if there's enough interested parties.
Ok, thats all for now.
Happy Shopping peeps!

It's also the GREAT SINGAPORE SALE season, so watch your pockets people! Never buy on impulse ya~ unless you can afford it. XD
Cheerios

FS.Rain
20:28 Posted in Beauty, Blog, Cosmetics / Makeup, My Interests, Shopping | Permalink | Comments (0) | Tags: shopping, shopping online, makeup, l.a. colors, discount, sales, cherryculture, cherry culture |
|
Facebook | |

Print | |