Friday, 22 June 2012
My Ainol Novo 7 Aurora Tab is back!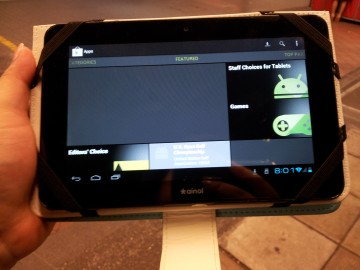 Finally my ainol novo 7 Aurora tab is back. Now with its cost hiked up by repair, total of SGD209 + 50,

its better last me till I get sufficient funds to get a Samsung Galaxy Tab2 or something even better! Hmph!
Quick specs for sharing:

- 7" Capacitative Screen

- Android 4.0 Ice Cream Sandwich

- 1.0 GB Processor

- Built-in Memory 8GB (add $20 for 16GB)
- Front Camera (specs to be confirmed)
I actually got mine at 16GB initially from sim lim square. But there were startup issues and no stock to exchange, so I took a refund of 20 to receive a 8GB replacement.
It was all well till 1 day I wanted to bring it for Google Play to be installed and at the store it was found that my screen became damaged due to having been squashed by items in bag or pressed on.
Hence I'm sharing with all readers here, if you intend to spend less money for an okay tab that's light weight and convenient to bring around, this novo 7 Aurora by Ainol works.
However, HANDLE WITH CARE!!
Cheers,

FS.Rain
20:26 Posted in Gadgets & Apps, My Interests, Thoughts... | Permalink | Comments (0) |
|
Facebook | |

Print | |