Friday, 22 June 2012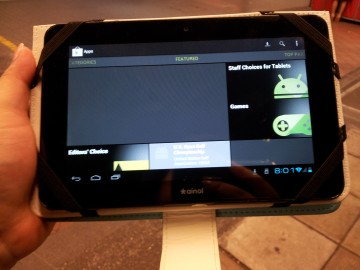 Finally my ainol novo 7 Aurora tab is back. Now with its cost hiked up by repair, total of SGD209 + 50,

its better last me till I get sufficient funds to get a Samsung Galaxy Tab2 or something even better! Hmph!
Quick specs for sharing:

- 7" Capacitative Screen

- Android 4.0 Ice Cream Sandwich

- 1.0 GB Processor

- Built-in Memory 8GB (add $20 for 16GB)
- Front Camera (specs to be confirmed)
I actually got mine at 16GB initially from sim lim square. But there were startup issues and no stock to exchange, so I took a refund of 20 to receive a 8GB replacement.
It was all well till 1 day I wanted to bring it for Google Play to be installed and at the store it was found that my screen became damaged due to having been squashed by items in bag or pressed on.
Hence I'm sharing with all readers here, if you intend to spend less money for an okay tab that's light weight and convenient to bring around, this novo 7 Aurora by Ainol works.
However, HANDLE WITH CARE!!
Cheers,

FS.Rain
20:26 Posted in Gadgets & Apps, My Interests, Thoughts... | Permalink | Comments (0) |
|
Facebook | |

Print | |
Monday, 18 June 2012
Originally posted at @ :: 痞客邦 PIXNET ::-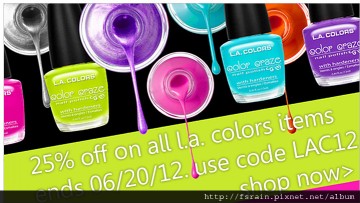 http://fsrain.pixnet.net/blog/post/37636616
Hey everyone!
I've not posted any entries in a while.. Most likely gonna back-post my articles to eliminate and "blanks" on the calendar. XP
For now I just wish to share with you that CherryCulture is having 25% off for L.A. Colors products! Grab yours now!
Im so so so tempted to join this shopping spree but am torned between saving up for up-coming trip and this exciting sales event... How~ what should I do?
Hmm.. Tell you what I have in mind. If you are located in Singapore and wanna get something during this sale but not enough items to cover the shipment fees, drop me a mail now!
I will consolidate all requests and advise if there are enough orders to do a spree where shipping cost per item falls within USD1.50 per item. How's that?
Alternatively, just drop me a note and I will keep you in touch when we have enough orders to do that Spree!
As to how much i'll charge for coordinating this and how we can arrange for deposits and payment, we can discuss this if there's enough interested parties.
Ok, thats all for now.
Happy Shopping peeps!

It's also the GREAT SINGAPORE SALE season, so watch your pockets people! Never buy on impulse ya~ unless you can afford it. XD
Cheerios

FS.Rain
20:28 Posted in Beauty, Blog, Cosmetics / Makeup, My Interests, Shopping | Permalink | Comments (0) | Tags: shopping, shopping online, makeup, l.a. colors, discount, sales, cherryculture, cherry culture |
|
Facebook | |

Print | |
Friday, 08 June 2012
Weee Hee~~!!!
I've started out a quest to post as many mini reviews of my cosmetics, skincare, makeup removers, whatever and ever so on so forth.. blah blah blah lala la.... to and fro work!! At the very least, on my way to work while I'm yet too exhausted by the end of the working day.
If you've been following my Health & Beauty Blog at Pixnet, you'd have noticed that it's slowly getting posted up!!
Also, I am trying to catch up on the photos to be uploaded!
The problem with uploading of photos is not the internet connection.. its the pre-upload that's tiring, time-consuming, and sometimes, confusing me too~
Coz I am lazy to rename my files after they are uploaded, so the best way to ensure after uploading into my blog I only have very minimal things to do, I will sort them out in my Thumbdrive folders and have all of the renamed!
This way, the file name tells me what photo it is and easier for me to organize them into the folders of my online album too!
Not to forget that these photos are also used for my reviews! So it is very important that I checked through them to get rid of blurred and out of focus photos, rename it, sort it out before and after uploading into my blog site.
Anyway, I'm just so happy this week. Completed 2 major steps for 2 major projects and I finally feel that I've made significant progress >> That's at work. Outside of work, I've been enjoying the fun and stressless kinda mini review blogging using the mobile app of my pixnet account. Mini reviews by my standards, save me lots of time on research, data consolidation, carefully planned review shots and swatches and applications shots. If necessary and possibily done, a video clip will be shot to further contribute to the content of a Review Blog post.
So such mini reviews are really convenient and hassle-free for me. I'm dropping snippets of my reviews in points while I'm transiting to/from work. Then when I reach home, I'll just insert the uploaded products photos into the post and open it up for viewing!
I hope that my reviews are helpful, please do make your presence known if you find it beneficial, and let me know if there're ways for me to improve on my blog posts.
As for this blog, it is really really meant for me to post up random, unrestricted topics that I felt like doing.. like now! Supposedly to be a post to announce my mini review series, yet I strayed off-topic in between the paragraphs of this post.. hope that you're able to stay with me and not get all confused..
FYI - I seems to have quite regular readers who came straight to this URL.. how do I know? the blog provides some simple stats, and it shows that out of 100% of viewers/visits, 40% is direct request.
Very interesting thing for me to find out.. but it also makes me felt even more curious of the audience of my blog here at BlogSpirit.
Shout out to me ok?!
Especially if you are one of those that pops in directly and not those who found me via links, search engines.
OK, enough of blabber for now.. wana continue with some video editing and hopefully, can post up a video showing how I put on my makeup soon!
Tata~
FS.Rain
22:11 Posted in Beauty, Blog, Cosmetics / Makeup, My Interests, Product Review | Permalink | Comments (0) |
|
Facebook | |

Print | |